Creative Edinburgh Members Library
Explore our new Community Directory! You can search by sector area and connect with the city's makers, thinkers and innovators.
Our members are currently updating their own profiles - please bear with us, this can take some time!
Filter by membership type
Core
Abi Pate
I graduated in 2020 with an HND in Illustration after previously working in Archaeology.
Core
Jamie Carty
Theatrical Stage and Production Manager with experience in child supervision and a passion for education through the arts
Core
Amber Brown
I have recently graduated from an MSc in International Marketing from Edinburgh Napier University. I am currently working as Head of Marketing at PongoPay, a mobile app and payment solution for the construction industry.
Core
Richard England
Glencairn Furniture is an award-winning designer and maker of exquisitely handcrafted bespoke furniture.
Core
Charlotte Pascoe
Freelance graphic designer and illustrator
Core
Sara Cameron McBean
Arts competitions and exhibitions
Core
Jennifer Crichton
Freelance journalist and writer, founder and editor of women's magazine platform The Flock, Creative Edinburgh Awards Start Up 2020 winner and Creative Bridge alum. Also a chatterbox, a reader and a mum. Tired.
Core
Antony Paul
Digital Project Manager / Musician / Producer / Audio Engineer / Product Designer
Core
Ailsa Harper
I am an Edinburgh based creative services assistant. Having lived in Edinburgh my whole life, I set up Edineats back in 2016 to start sharing my foodie adventures and have now built up a lovely Edinburgh based community!
Core
Ildiko Marta Rohonka
Edinburgh based graphic designer.
Core
Gemma Keith
Freelance photographer in my final year of Film and TV at The University of Edinburgh
Core
Inga Dale Steyn
I am a spoken word artist and writer from Cape Town, South Africa. I have a Master's degree in WomenÕs and Gender studies, and have researched issues pertaining to marginalized groups in Cape Town. I am passionate about social justice and inclusion which
Core
Tommie Travers
Tommie is a passionate Producer and Musical Director from Edinburgh, who has worked in and around the city for the past fifteen years, encouraging and facilitating live performance; providing countless opportunities to performers and creatives alike; and
Core
Simon haslett
Glasgow Caledonian University
Core
Cat Dunn
Freelance social art curator
Core
Katherine Fay Allan
Katherine Fay Allan (DJCAD Art and Philosophy 2019) is an Artist, Performer, Researcher, and Facilitator based in Edinburgh. Exhibitions include; 'Insect Mimicry: a call for interspecies empathy', Birnham Arts, 2022; RSA New Contemporaries, 2020; 'The rest of us… we just go gardening', DJCAD Degree Show 2019. Residencies include Dig and Declare group residency, 2022, The Museum of Loss and Renewal, Collemacchia, Italy; Hospitalfield Graduate Residency 2022, Hospitalfield House, Arbroath; Ninewells Community Garden, Dundee, 2019-2020; DJCAD Artist in Residency, Dundee, 2019-2020.
Core
Jade Mcelwee
Creative Industries Student at Edinburgh College Previous Marketer for Edinburgh Leisure Content Creator on Youtube and Twitch Recreational Artist for fun
Core
Heather Mckay
Currently seeking out a career path in the creative sector with a focus on visual contemporary art but also heritage and cultural conservation
Core
Agata Rafalska
Camera Assistant / Camera Trainee - skilled in pulling focus, slating takes, marking clapper board, writing camera reports, camera setup, changing lenses, filters etc. - familiar with set etiquette - MA Film: Cinematography graduate - full, clean driving
Core
Lucy Logan
Lulo & Co specialises in beautiful homewares, gifts and accessories, made in the UK from sustainable materials.
Core
Jemima Jones
Nature is my passion and vision - living life close to nature and enjoying our connection with it. I'm a yoga teacher but I see my best role as providing space and guidance for people to enjoy moving and feeling their bodies and have direct experience of
Core
Rebecca Douglass
Rebecca Douglass, dance graduate and interdisciplinary enthusiast, working out her practice through the mediums of moving, writing and curating.
Core
Emma Barr
Theatre Artist, Researcher and Co-host of Fluff Podcast.
Core
Keiran Buchanan
Hey, I'm Keiran, an ambitious multimedia designer currently living in Suffolk. With 4 years of experience creating websites, branding, animations, print collateral and more, I'm eager to find a challenging and exciting opportunity in Edinburgh.
Core
MaryAnn Kennedy
Lecturer/Programme Leader BA(Hons) Photography Edinburgh Napier University
Core
Caitlin Shadforth
I am an aspiring artist originally from Australia living in the seaside town of Berwick upon tweed but hoping to venture to Edinburgh to live for a while. I love to be creative and see others being creative my artwork is based on the ocean and nature and
Core
Elzbieta Vozbinaite
Elzbieta Vozbinaite was born in 2000, in Vilnius. In 2018 she graduated from Skalvija Film Academy two-year course led by Andrius Bla_evi_ius and won the best graduation film award ÒSkalvijukasÓ. Has participated in various international filmmaking worksh
Core
Elisa Guietti
Creativeflow Intuitive Art, Meditation & Therapy provides a safe and positive space for exploration, free expression, and healing. The project aims to nurture our authentic selves and invite people to explore the beauty of their creative energy. Art, medi
Core
Seonaid Rafferty
Hello! I'm a graphic designer based in Edinburgh, with an interest also in visual marketing and writing. I have a particular passion for print mags.
Core
Dominic O'Reilly
Tattoo artist & creative
Core
Lauren Ferguson
Lauren FergusonÕs practice is primarily concerned with a sense of place which she develops through an in-depth exploration of the history, architecture and associated objects within spaces that she has a personal connection. Notions within the methodologi
Core
Johnathan Elders
I am a practicing designer and sculptor with a passion for science. I produce high impact public art and have enjoyed considerable press coverage. My work explores the potential opportunities afforded to us through our understanding of science and the im
Core
Emily Ingram
I am a writer, theatre and film director, producer and props-maker based in Edinburgh. Currently I am working with the CGO Institute to promote their Diploma For Creative Producing and their networking group for live events producers, Producers' Pool.
Core
Richard Gallacher
I have created so much that could be exploited for large monetary gains as well as creating jobs.
Core
Faika Cansin Stewart
I am Fa•ka Cansin Stewart, Communications Officer at the French Institute in Scotland (Edinburgh) with a BA in History of Art from UniversitŽ Paris-Sorbonne and an MSc in Modern and Contemporary art: History, Curating and Criticism from the University of
Core
Jagoda Zwiernik
I GOT INSPIRED BY OTHERS, ID LIKE TO MAKE A CHANGE WITH MY ART AND MEET PEOPLE WHO ARE OPEN MINDED LIKE ME
Core
Martyna Porzezinska
Polish master of art, at least in theory. Ex-designer and future illustrator with a great sense of humor
Core
Nyree Troughton
I'm a visual artist currently living and working on the Isle of North Uist, Outer Hebrides. I graduated last year from the BA (Hons) Fashion Communication course at Heriot Watt. Since then I've been travelling in Australia and am now back home working and
Core
Grace Feakes
I'm Grace. I'm an Advertising & Design graduate looking to connect with and learn from other creatives locally. At the moment, I'm responsible for the branding and visual communications of a technology consultancy firm. I'm actively looking for new opport
Core
Kevin Morris
A passionate freelance motion graphic designer and animator based in Edinburgh, Scotland. Specialising in creating 2D motion graphics & animation for advertising, web & broadcast.
Core
Ellen Ritchie
I am a graduate of the MLitt Playwriting and Dramaturgy programme at the university of Glasgow. I am also one of the organisers of Wonky Veg Theatre. Looking for work in both theatre and the creative sector more broadly.
Core
Callum Boath
Filmmaker based in Scotland - Wood Chip Films Working in the third sector, creative sector, music videos and pretty much everything else.
Core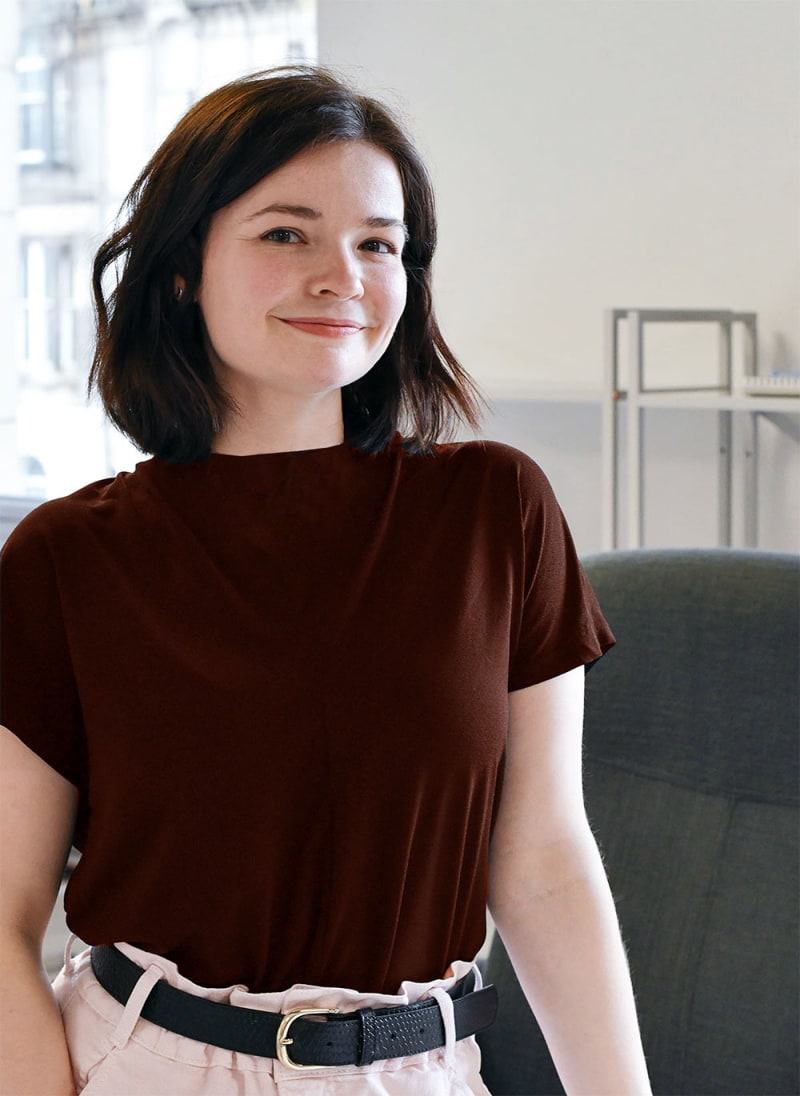 Tara Mac
Hi, I'm Tara! I worked for over 10 years in both in-house and agency roles before deciding to go it alone. I offer branding and website design services, primarily for makers and fellow creatives. Check out my website to have a look at my work.
Core
Fionn Grant
I'm a copywriter: Seeking an AD (Art Director) or graphic designer to collaborate with.
Core
Campbell Donaldson
Freelance photographer and videographer based in Edinburgh, but willing to travel.
Core
Tom Drew
Tom is a Sound Designer, Composer, and Masters graduate of the National Film Television School. He works on animations, documentaries, feature films, and commercials for clients including The BBC, The Guardian, and TED-Ed. He also collaborates with galler
Core
Miriam Walsh
ASCUS Art & Science is a non-profit organisation. Founded in 2008 and a registered non-profit company limited by guarantee since 2013, we are an organisation dedicated to building a community of artists, designers, scientists, and other individuals intere
Core
Jason Baxter
Photographer/Videographer & UAV Pilot
Core
Matthew Milne
My focus is on providing and supporting people and businesses find future-proof cloud based software solutions for their finance functions
Core
Nefeli Kyriakidi
MSc Creative Advertising student with experience in Film - originally from Greece